Several people have expressed their worries and reactions to the graphic sample of a Ghc500 note.
President Nana Addo Dankwa Akufo-Addo is in the middle of the note, with former President John Kufour in the button corner.
On the top of the Note are late President Mills, former President Rawlings, and late Dr. Kwame Nkrumah.
Akufo-government Addo's has tried to affect the currency three times. The Bank of Ghana has said that the Ghc200 and 100 will not be transacted in ATMs.
Bank of Ghana Later released a development that the government is to introduce the E-Cedi System making transactions digital.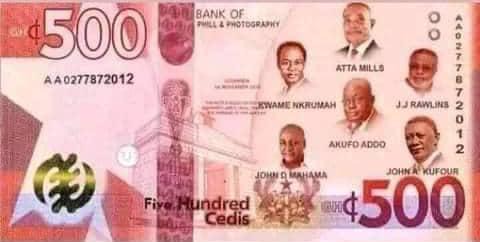 The Bank of Ghana demanded two weeks ago that the Ghc2 note and 1 Cedi coin be removed from the system.
Read Also
Moesha Boduong For The First Time Features Her Artificial Huge A$$ In Kumawood Movie – Video
The bank says the notes are too expensive to manufacture and difficult to count in banks using money counting devices, Dr. Addison added.
Many believe the money in circulation is only a test to see how adaptable Ghanaians are, while others believe it is another attempt to fool the state because no one would be informed of the exact number of currencies issued.
While the Bank of Ghana has yet to formally discuss the new money, some youth have expressed unhappiness with the President for omitting Dr. Hill Limann from the Lost of President's design on the coin, claiming that the former president deserved more recognition and appreciation.